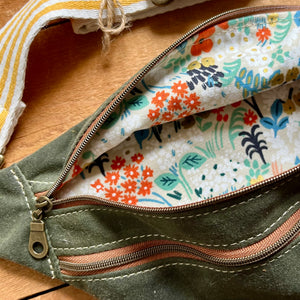 Ready to Ship:
- Deep Olive Waxed Canvas 
exterior with Meadow in Flax interior 
- Ships within two business days

Bag Interior Size:

11" Wide x 4.5" Tall x 6.5" Deep
Strap Size:
20.5"- 37" 
(not including swivel clasp)
25.5" - 42" (including swivel clasp)
Materials:

4/5oz. Vegetable Tanned Full Grain Leather
100% Cotton Straps
 Solid Brass Hardware
-Swiveling clasps enable quick and simple exchange of straps.
- Long-lasting materials ideal for everyday use
- Different strap colors and sizes can be purchased individually. If an extended size is necessary for the original bag, please reach out to us!
Disclaimer:
Here at Juniper, we use full-grain veg-tanned leather. Our leather has not been altered outside hair removal and veg-tan, rendering it some of the most genuine and durable leathers available. However, this often results in slight variations between batches. Subtle color and texture differences a to be expected!