"These journals are so amazing!! If you think they are awesome from the photo, you'll find out they are even more quality once you have them in your hands!! I bought two for my daughters and they love them! I will be ordering one for myself as well!"
- Alanna R.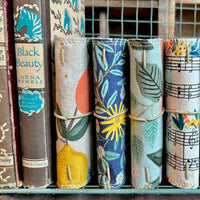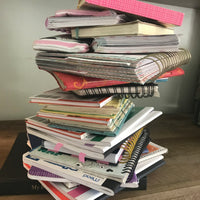 Does this scene look familiar???
Our family incorporates a LOT of Notebooking in our school and everyday life. This is a real life picture of all of the notebooks we were trying to keep track of, AND the reason the Juniper Journal was born. Math, science, commonplace, nature, book of centuries – how do you keep track of them all? In my house we were constantly delayed for looking for one or another. With Juniper Grove, the journal problem is solved. The Juniper Journal is a basic shell that holds multiple notebooks (anywhere from 1 to 7 at a time!). They are replaceable and affordable, and best of all, you only have one book to keep track of! Spend less time searching and more time journaling.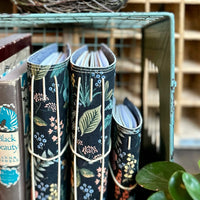 Much better!!
Can you believe this replaced that pile of notebooks and then some??
Testimonials
More than a journal, this is a keepsake. It is so beautifully crafted, it's a pleasure just to look at or even hold it. And when I raised a concern I had (shipping related), seller went above and beyond to help me sort it out. Can't recommend enough. I have already placed my second journal order because they're too beautiful to have just one. Thank you.

Katie C.
I am thoroughly impressed by the quality of the product and customer service! I loooooooove my jounals. I am so excited to put them in rotation. They came beautifully packaged, and carefully wrapped. They are just so darn beautiful.... I will most definitely be ordering again.

Emily J.
Whoa! To say I'm pleased is an understatement (and I am SUPER picky). As soon as I put my hand in the package to pull out the journal, I knew I was holding something special; the leather feels absolutely luscious! And I'm really sensitive to chemicals, but this truly is pure - it feels so good to breathe in the real leather aroma. The paper is great quality, the zipper pouch is pretty and well-made, and the whole thing is just delightful. I'm excited to enjoy notebooking in this journal for years and years to come! And I'm sure it goes without saying, but the customer service was second to none, and shipping was very fast. Well done, Juniper Grove! 😄

Michelle G.